Struan Stevenson: Hydro-power stations do not consume water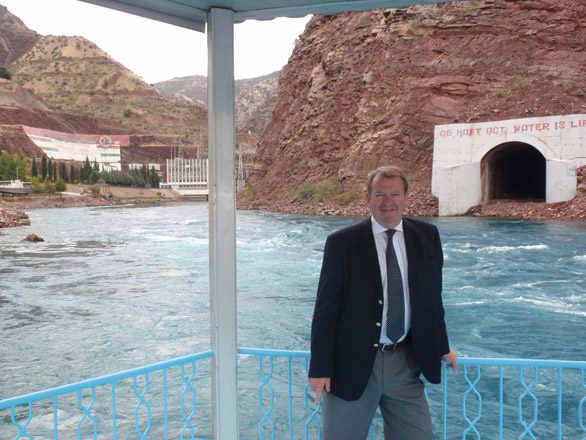 As we approach the home-straight of 2011, media attention surrounding the Rogun Dam in Tajikistan has begun to swell, primarily because the World-Bank is scheduled to publish their impact assessment on the safety of the dam in early 2012.

The report will assess the economic, environmental and social aspects of the project and the findings could inflame underlying tensions in the region, particularly with Uzbekistan. The Uzbeks vehemently oppose the dam because they fear that it would be vulnerable to seismic activity and Uzbek President Islam Karimov has warned that the dam will further impact already scarce water supplies that farmers in his country rely on.

I have visited both the Rogun complex and its neighbour, the Nurek Dam. I am convinced that this project is both safe and regionally essential. As I have said in the past, I am happy to leave the final decision on Rogun's viability to the World Bank experts but regional and international actors must recognise that with or without the participation of their neighbours or downstream riparian states, Rogun and other similar dams are being built and it is most likely that they will be finished.

The term 'regional cooperation' has been overused in Central Asia. It has been bandied about so much that it has become nothing more than a stale and worthless cliché. But there is no reason why a project such as Rogun cannot be a win-win situation for both Tajikistan and downstream riparians such as Uzbekistan. The Rogun Dam will of course use water and it will be filled with 13 billion cubic metres of it but naysayers are quick to forget that Hydro-Power Stations do not actually consume water.

The basic principle of hydropower is that if water can be piped from a certain level to a lower level, then the resulting water pressure can be used to move a mechanical component which converts the potential energy of the water into mechanical energy. This process does use water, but it does not consume it. It is a highly efficient, very clean source of energy that allows water to be used for other purposes.  Each 600 kWh of electricity generated with a hydro plant is equivalent to 1 barrel of oil (if an efficiency of 38 % for the conversion of oil into electricity is used). When fully operational, Rogun will have six turbines with a total capacity of 3,600 MW and will produce 13.3 TWh of electrical power per year. If built properly, hydropower systems are long-lasting and robust, the energy available is predictable and the running costs are low.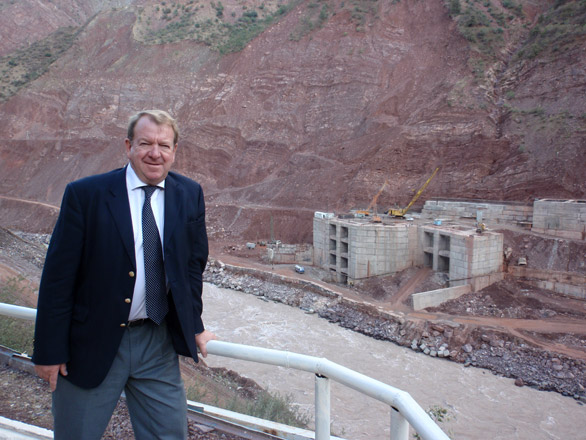 Granted, hydropower is a site-specific technology and river flows do suffer seasonal variations but with comprehensive interest in renewable energy sources and remembering that the United Nations 'Rio+20' Conference on Sustainable Development takes place around the same time that the World Bank publishes their report on Rogun, it does seem strange that people are so quick to dismiss a hydropower project that will produce so much clean energy for such an underdeveloped region.

Critics repeatedly argue that a completed Rogun will give Tajikistan 'control of the river'. The 'river' being the Vakhsh River which eventually joins the Panj River to form the Amu Darya, before flowing into Uzbekistan and Turkmenistan and eventually feeding the southern part of the Aral Sea. Along with Nurek Dam and the Sangtuda Dam projects (the first of which was formally opened in September), when all three stages of the Rogun project are completed, it will certainly have a short-term effect on the output of the Vakhsh which provides 25 per cent of the total Amu Darya flow. But will a completed Rogun really be a threat to the water sources of downstream riparians? Upstream resource utilisation does not necessarily subtract benefits from downstream users. In regards to upstream hydropower versus downstream agriculture, a win-win situation is possible and would occur if water releases take place when both actors can utilise it. But for this to happen, cooperation and communication between riparians is vital.

Aside from water, Tajikistan is not a resource-rich country. Much of its landscape consists of rugged, uninhabitable mountains and it is only just recovering after civil war. With Rogun completed, Tajikistan could guarantee its own energy-security for years to come meaning that it could continue to focus on other endeavours such as continuing to improve its human rights record and further entrenching democratisation. A completed Rogun Dam would also mean that clean hydropower could be exported to neighbours and enable them to benefit financially from the export of their own carbon-based resources. If Central Asian states were willing to cooperate, there is no reason why Tajikistan could not facilitate the timely release of water for agricultural purposes downstream. Rogun could also ensure that water is available for downstream users in times of drought. But it is not just Uzbekistan and other riparians that must embrace Rogun. Tajikistan's proximity to Afghanistan, Iran and Pakistan puts it at the forefront of the global fight against extremism and the drugs trade. It is strategically important to the West. It has a crucial role in bringing stability to the volatile region. Besides guaranteeing its own energy security with Rogun, Tajikistan would be able to export electricity to neighbouring nations. A 500 kV transmission line is already being built between Tajikistan and Afghanistan and could help international efforts at restoring peace and re-building Afghanistan's shattered economy. There is no reason why electricity could not be exported to Pakistan, where shortages are common. Instead of concentrating on mollifying doubters, Western countries should focus on ensuring that Rogun will have benefits for all those affected by its completion. Ensuring energy-security throughout the region will provide employment and opportunities and will boost the economies of these conflict-ridden countries. After years of quarreling, Tajikistan and Uzbekistan must realise that cooperation and rapprochement could end with benefits for all, primarily because hydro-power stations do not consume water. Much of the northwest of Tajikistan currently depends on electricity from Uzbekistan because of how the transmission grid is set-up.

In the new millennium, the electricity trade turned even further to the disadvantage of Tajikistan; it imported 64979,339 GWh whilst exporting 113163,057 GWh. But with the completion of the Rogun Dam, the Tajik authorities are confident that they can not only meet 100% of their energy needs but also export electricity to their neighbours including China, Afghanistan, Pakistan, and Iran and maybe even India.  Tajikistan could even provide energy to Uzbekistan if an agreement could be conceptualised but since independence, Uzbekistan has remained committed to its policy of energy self-sufficiency. Furthermore, the Tajik authorities hope to expand their transmission grid to cover the north-western territory and they have already begun exploring the possibility of a north-south transmission line with Kyrgyzstan, which would mean that they would not require the current transmission line through Uzbekistan. These arguments all point to the fact that water needs to be managed properly in Central Asia.

* Struan Stevenson is a Conservative Euro MP representing Scotland in the European Parliament. He is President of the Climate Change, Biodiversity & Sustainable Development Intergroup and last year was Personal Representative of the Chairman in Office of the OSCE, responsible for drawing up a report on the environmental problems of Central Asia. In June 2011 he travelled to Tajikistan where he spent 5 hours touring the Rogun Hydro Power Project in the company of President Rahmon of Tajikistan and several high-ranking Tajik government ministers.

Source: http://news.tj/en/news/struan-stevenson-hydro-power-stations-do-not-consume-water